Football is rarely dealt with in terms of calendar years. Except for the odd momentous milestone, such as Lionel Messi's breath-taking goal scoring return of 91 goals in 2012 that all but cements his standing as the greatest player of the modern era, if not ever.
For Arsenal it's been somewhat of a mixed 12 months. It has been a year full of the usual highs and lows we've grown to expect as fans of the club, with surprises, agonising departures, bickering, pain and thrills all being experienced a long the way.
Once again, I'm going to call upon the predictive method of summarising such proceedings in an awards themed blog. I know, everyone does it, it's about as creative as Gervinho on a cold winters night in Yorkshire, but it has to be done. So sit back and please enjoy with me my Arsenal Awards – 2012.
Champagne Moment
Arsenal 5 - T*ttenahm Hostpur 2 - Premier League, 26th February 2012
Let's start with a positive one, and allow me to give you what I believe to be the Champagne, or Best Moment of 2012 as an Arsenal fan. Beating West Brom 3-2 on the final day of last season to finish 3rd and automatically qualify for the Champions League was a fantastic finish to a long and tough year. Another immense highlight was the Return of the King, as Thierry Henry came home to score an FA Cup 3rd Round winner against Leeds back in January.
But the real Champagne Moments for me featured our noisy neighbours, and a score line we've grown to love in 2012. We beat Sp*rs twice at the Emirates Stadium, both finishing 5-2 and both involved coming back from behind.
A very familiar, and enjoyable, scoreline we experienced twice against Sp*rs in 2012.
I think February's drubbing was the greater moment. Sp*rs were 10 points (provisionally 13 as they sat 2-0 up) ahead of us in the League, and the pre-match talk was all about how we were no longer a threat to them and how they now had
bigger fish to fry
. Goals from Sagna, van Persie, Rosicky and a Walcott brace put Sp*rs to the sword that day, and it was the start of a phenomenal run of games that ultimately propelled us above them in the League. Order restored. Oh, and mind the gap.
Game of the Year
Reading 5 - Arsenal 7 - Capital One Cup, 30th October 2012
A few notable nominations for this one too. Both Sp*rs victories could easily feature on this list, then there were also fantastic wins last season at home against Blackburn, Milan and Man Citeh, whereas this season has so far seen a fantastic away win at Liverpool, plus most recently a 7-3 win over Newcastle at home last Saturday, all of which have been thrilling in their own way.
But there was one game that stood out, had everything, and resulted in 12 goals (after extra time) and a 7-5 win against Reading in the Capital One Cup.

It was the most epic of cup ties, as we found ourselves 4-0 down after 37 minutes, requiring two goals in stoppage time of the second half to keep ourselves in the competition and take the tie to extra time.
Theo Walcott scoring in one hell of a topsy turvy evening in Reading.
In extra time, we got in front, were pegged back, witnessed Marouane Chamakh scoring, twice, and Theo Walcott wrapped up his hat trick in the dying seconds to finish off the most emotionally draining game I think I've seen for years.
A prime example of how football is a game of 90 minutes, as we found ourselves on the right side of a come back that any set of supporters should be proud of. What a game.
Low Point of the Year
Bradford City 1 - Arsenal 1 (Bradford won 3-2 on penalties) - Capital One Cup, 11th December 2012
From a Capital One Cup highlight, to a massive, massive low point as despite that epic comeback at Reading we failed to progress further than the next round after a howling penalty defeat against League Two Bradford City, in the competition quarter finals.
A night to forget, as Arsenal crashed out of a deliciously winnable competition.
It began with that horrible clichéd question; can they hack it on a cold winter's night in the North of England? And ultimately no we couldn't, as we failed to even get close to getting out of first gear.
The players were an embarrassment, and we were completely outplayed by a side in the fourth tier of English football who could count themselves unlucky at being pegged into extra time after Thomas Vermaelen cancelled out the home sides opener in the 88th minute.
At that point it looked like our International players would step up and scrape through, but we limped our way through extra time and you could see what was coming as soon as the 120 minutes were up.
A humiliating defeat on penalties and probably the worst reaction to a defeat I've seen since the social media revelation. Rightly so, too.
Most Improved Player of the Year
Carl Jenkinson
A year to remember for Arsenal fan, Carl Jenkinson.
Slightly torn on this one between two young Englishmen, both at very different stages of their careers. On the one hand, I think Theo Walcott has improved exceptionally in the calendar year. He started the year with serious questions over whether he'd be worth a contract extension, after a string of inconsistent performances, but finishes it as our leading scorer in the 2012/13 season with most fans desperate for the club to cough up to his demands that twelve months ago seemed ridiculous.
Elsewhere, 2012 was definitely the year Carl Jenkinson showed that Arsene Wenger was right to bring him in in the summer of 2011. A bit part player in the back end of the 2011/12 season, Carl started the first five matches of this campaign due to an injury to Bacary Sagna, and his performances, notably in the away draw at Man Citeh, were exceptional. It resulted in a deserved England call up and a new long term contract at the club. If he can keep improving in the future as he has done this year, we can expect to see a lot more of the man who would 'run through a brick wall for Arsenal'.
Rising Star
Thomas Eisfeld
There have been several emerging youngsters from the youth sides this year who have really caught the eye. Serge Gnabry has rightly attracted plenty of plaudits, and the young winger has featured a few times in the first team with the manager full of praise for the German's ability.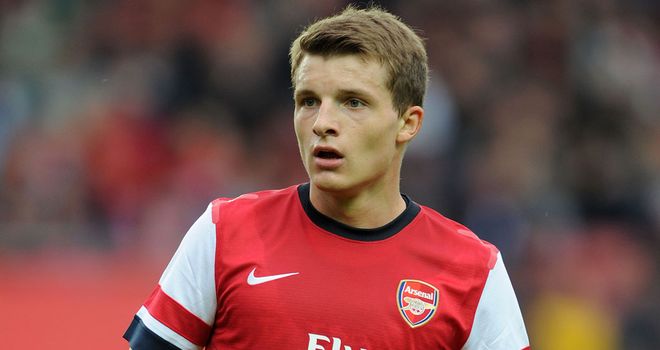 Eisfeld has been exceptional for the Arsenal Reserves this year.
But the youngster I've been most impressed with is another German signed from Dortmund in January, Thomas Eisfeld. OK, he's only made one first team appearance off the bench in the 7-5 'Game of the Year' against Reading, but even just in that cameo he made a big difference to our midfield, showing the raw potential he has. Often likened to a young Freddie Ljungberg, Eisfeld has bagged eight goals for the Reserves this season, and is surely close to knocking more seriously on the first team door. One to keep your eyes on in the future.
Flop of the Year
Gervinho
It just hasn't worked this year for Gervinho and he's a player who often splits the opinion of many an Arsenal fan. After he signed in the summer of 2011 and made a very slow start (sent off on debut), I was willing to give him the benefit of the doubt and allow him time to settle. This season, I expected him to make more of an impact and to be fair he kind of did scoring three goals in the early part as he was trialled up front by Wenger. But from then on, it has been a miserable campaign for the Ivorian.
My issue with Gervinho is that I just don't think he's good enough for the club, and I write that with regret as I always want it to work out for our players. He tries, but often his trying results in getting in the way, being caught out of position, and making decisions that are almost as un-human as the size of his forehead. The icing on the cake was his glaring miss in the 'Low Point of the Year' defeat against Bradford, and since then he has simply warmed the bench, coinciding with our best run of form in the League with four wins on the bounce. I'm sorry to say it, but I don't think that's a coincidence…
That howling miss against Bradford.
Goal of the Year
Lukas Podolski v Montepellier - Champions League, 21st November 2012
Tough one this, as I have three goals in mind. One sentimental, one meaningful, and one absolute screamer. Naturally I've gone for the screamer as the best of the lot, but Thierry Henry's goal on his return against Leeds again deserves a shout out for the raw emotion and passion of it, and Sagna's in the first of the 5pur2 fixtures also as it was a header met with such desire that it dragged us back into the game that ultimately kick started our end of season push.
But sometimes you have to scrap meaning and emotion, and just enjoy a goal for what it is. And Lukas Podolski's belter against Montpellier in the Champions League was just that.
No point explaining it, just enjoy it again below:
Signing of the Year
Santi Cazorla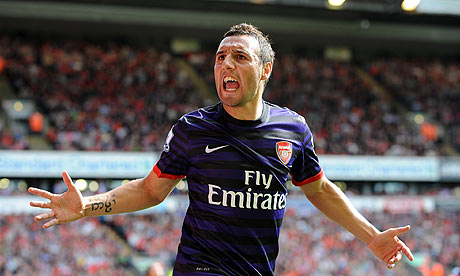 Cazorla celebrating his first goal for the club, away at Liverpool.
It was another tough summer for Arsenal, as we again lost our star player as Robin van Persie's true colours emerged and he was swayed by the prospect of doubling his money at one of our biggest rivals, Manchester United. Alex Song also left the building as Barcelona needed new bodies to warm their bench. Three players came in, one from France, one from Germany, and one from Spain.
Olivier Giroud and Lukas Podolski have both been on the whole very good for the club since joining, but Santi Cazorla has taken the League by storm since his arrival from Malaga. The best creative midfielder we've had since Fabregas, and his vision and touch are often reminiscent of the little magician we formally had.
In truth, he has had his quiet moments, but he's never afraid to get his foot on the ball and try to play the beautiful football we've grown to love at Arsenal. He fits right in, and isn't just a player who turns up, earns millions and does the bare minimum. His love of the game is obvious, and he's an asset that we're very lucky to have.
Player of the Year
Mikel Arteta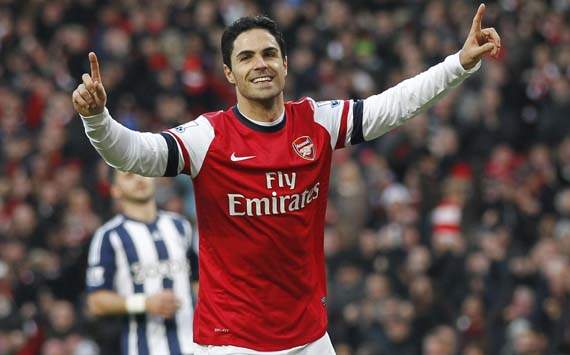 The main man of 2012.
Mr Consistent. The man with the perfect hair. And our best player of the year for me, is Mikel Arteta.
Our poor form at the end of last season coincided with his absence, which heightened just how important he is for us. But he's our midfield metronome, the bridge between defence and attack, and not only that but also a real leader.
He has even chipped in with a few cracking goals, including the only goal in our brilliant 1-0 win against Man Citeh last season, as well as a stunning free kick in the 3-0 win over Aston Villa back in March.
As far as "panic buys" go, this guy has got to be one of the best ever made and he's the first name on the sheet every week as far as I'm concerned.